Homer the Vigilante
18,265 articles being
edited here
Talk

6
"Oh my God! Underage kids drinking without a permit!"
Homer the Vigilante is the eleventh episode of Season 5. It aired on January 4, 1994. The episode was written by John Swartzwelder and directed by Jim Reardon. Sam Neill guest starred as Molloy.
While a cat burglar prowls Springfield and evades all law enforcement, Homer forms a vigilante group to protect the city. But the power quickly goes to his head and an unlikely source figures out the identity of the cat burglar.
Full Story 
Edit
A crime wave hits Springfield, but the police can't handle all of the crime going on. Homer decides that he should find the criminal in order to get Lisa's stolen saxophone back. He starts his own vigilante group, but they cause more trouble than they try to stop. When they find out the burglar's next robbery will be catching the world's largest cubic zarconium, Homer plans a stakeout. However, he gets drunk while on the job and passes out while the zarconium is stolen.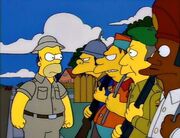 All of Homer's vigilante groupmates quit and everyone in town turns against him.
Grampa
then reveals he knows who stole it,
Molloy
, an elderly man at the
Retirement Castle
. Upon confronting Molloy, the old man politely gives back their items, and apologizes for his misdeeds. His apology touches the town's folk and they want to let him go, but Chief Wiggum does something right for once and throws him in jail.
The next day Homer visits Molloy to taunt him. It is then that Molloy reveals to Homer and Wiggum that he has millions of dollars hidden under a big "T". The ensuing chaos turns into a It's A Mad, Mad, Mad, Mad World parody with everyone in Springfield trying to find the treasure. Once they uncover it, they find a suitcase with a note saying that during the time they looked for the treasure (of which there is none), Molloy has already escaped from jail. Mayor Quimby still insists they keep digging, hoping to find something. A few hours later, they still don't find anything and Otto asks how they get out, which Homer replies they'll 'dig our way out' and resume digging until Wiggum tells them to 'dig up, stupid.'
Citations
Edit
remove category