The Homer Humiliator is an invention Bart Simpson designed for the school science fair. Martin Prince, his partner, failed to see the scientific function of the machine, so they made a Robopet instead. However, after the Robopet became a success, he received funded to make it. Firstly, a pie is catapulted up and hits Homer in the head. Then, an old boot hits him in the crotch. Finally, the catapult whacks him on the head.

Differences between the design and the machine
In the design, there are three panels in the middle, but on the machine, there are four.
In the design, the boot hits him in the butt, but when the machine is on, it hits him in the crotch. (This may be because Homer was facing the wrong way.)
Trivia
In Bart's design, Homer looks like Angry Dad holding a newspaper from Episode 2.
Appearances
Video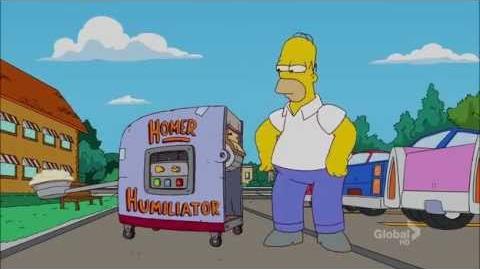 Ad blocker interference detected!
Wikia is a free-to-use site that makes money from advertising. We have a modified experience for viewers using ad blockers

Wikia is not accessible if you've made further modifications. Remove the custom ad blocker rule(s) and the page will load as expected.