"Pull a Homer - to succeed despite idiocy"
―the American dictionary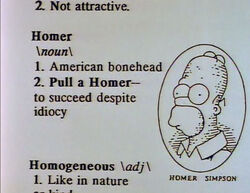 Homer is when you accidentally do something resulting in an act that had positive consequences.
History
When Homer Simpson saved Springfield from a nuclear meltdown, (by doing eeny meeney and selecting a button at random), he becomes a hero. Eventually, everyone found out that he was a fraud and that it was luck that saved them. Therefore, Homer became a word. It is used to describe all sorts of luck (such as Barney falling off a chair and finding a pretzel).
Appearances
Ad blocker interference detected!
Wikia is a free-to-use site that makes money from advertising. We have a modified experience for viewers using ad blockers

Wikia is not accessible if you've made further modifications. Remove the custom ad blocker rule(s) and the page will load as expected.