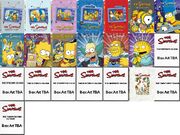 A set of The Simpsons' episodes, including extras included, are released on home media subsequently after broadcast. Which ranges from themed episodes to a whole season. Some of which have been available as listed;
The Simpsons Collection
The Simpsons Collection were a set of VHS, packaged with two Season 1 or 2 Simpsons episodes. Other than presumably advertisements, piracy procedures etc., no extra features were included and/or shown before or after the episode/s. With no 'Collection' VHS since been released with succeeding Seasons and the obsolete use of VHS, this series of home media has been discontinued.
The Simpsons Complete Seasons
The Simpsons Complete Seasons are a series of DVDs and Blu-ray Box sets, which packages all of the episodes of a season each e.g. The Complete Sixth Season packages all 25 of its episodes. It also includes extras that were not broadcast such as behind the scenes, commentaries during episodes etc.
Distribution
Twenieth Century Fox Home Entertainment (internationally, 1990–present)
Ad blocker interference detected!
Wikia is a free-to-use site that makes money from advertising. We have a modified experience for viewers using ad blockers

Wikia is not accessible if you've made further modifications. Remove the custom ad blocker rule(s) and the page will load as expected.