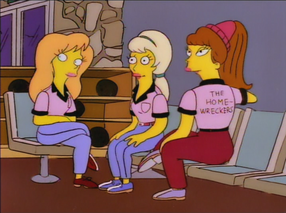 The Home Wreckers were a bowling team consisting of four people who have attempted to seduce Homer and Marge on various occasions.
History
They once lost to Homer's team Pin Pals.
Members
Member Information
Appearances
Citations
Ad blocker interference detected!
Wikia is a free-to-use site that makes money from advertising. We have a modified experience for viewers using ad blockers

Wikia is not accessible if you've made further modifications. Remove the custom ad blocker rule(s) and the page will load as expected.