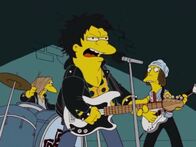 Hitler and Her Majesty is a song sung by Sid Vicious (Nelson) in "Love, Springfieldian Style". The music was written by Alf Clausen and the lyrics by Don Payne.
Lyrics
Sid Vicious:
Hitler and Her Majesty,
Sitting in a tree!
B-O-R-R-I-N-G!!
Man:
You rule, Sid Vicious!
Sid Vicious:
You sicken me!
Ad blocker interference detected!
Wikia is a free-to-use site that makes money from advertising. We have a modified experience for viewers using ad blockers

Wikia is not accessible if you've made further modifications. Remove the custom ad blocker rule(s) and the page will load as expected.