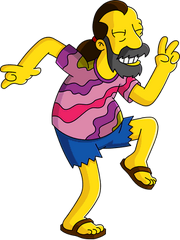 Hippie is the owner of Uriah's Heap Recycling Center.
History
When Seymour Skinner delivered several stacks of newspaper to be recycled,the hippie gave him 75 cents in return. Skinner complained about this, saying that he spent more than that on the gas he used to get to the store and the twine to tie up the bundles of newspapers. The Hippie then says it sounds like Skinner is working for his car and tells him to simplify. He took part in the world's tallest human pyramid attempt.
Appearances
Ad blocker interference detected!
Wikia is a free-to-use site that makes money from advertising. We have a modified experience for viewers using ad blockers

Wikia is not accessible if you've made further modifications. Remove the custom ad blocker rule(s) and the page will load as expected.