The Hibbert family are one of the many families who are native to Springfield.
Summary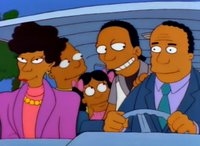 The immediate Hibbert Family consists of Dr. Julius Hibbert, his wife Bernice Hibbert, and their first son, first daughter, second son, second daughter and youngest son. The family is said to be a parody of the Huxtables from the Cosby Show.
Extended Family
Other members of the Hibbert family include Dr. Hibbert's brother, Bleeding Gums Murphy, Dr. Hibbert's long lost twin, who lives in Shelbyville and Julius's father who lives in Springfield Retirement Castle. His wife Bernice's younger brother Chester Dupree also often come for help.