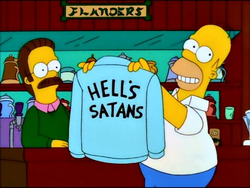 The Hell's Satans were an outlaw motorcycle club formed by Homer after he won a Harley-Davidson motorcycle at Greaser's Cafe.
It consisted of Homer, Lenny, Carl, Moe and Ned. They caused trouble around Springfield and got into a magazine because of this.
Homer was then visited by Meathook, the leader of another motorcycle gang called the Hell's Satans as well. After this, the gang broke up.
Appearances
Ad blocker interference detected!
Wikia is a free-to-use site that makes money from advertising. We have a modified experience for viewers using ad blockers

Wikia is not accessible if you've made further modifications. Remove the custom ad blocker rule(s) and the page will load as expected.