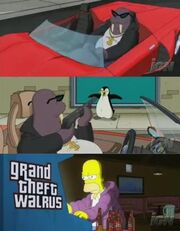 Happy Feet is a movie realsed in 2006. It is about a penguin who dances with really "Happy" feet. His first and only appearance in "The Simpsons Movie" in the arcade game "Grand Theft Walrus. At the tavern eski-moes
Trivia
Hank Azaria is a voice of a penguin in the sequel Happy Feet Two.
Grand Theft Warlus is reference to real life violent video game "Grand Theft Auto"
Ad blocker interference detected!
Wikia is a free-to-use site that makes money from advertising. We have a modified experience for viewers using ad blockers

Wikia is not accessible if you've made further modifications. Remove the custom ad blocker rule(s) and the page will load as expected.