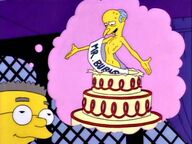 Happy Birthday, Mr. Smithers is a brief song in the episode "Rosebud". It is shown as a fantasy of Smithers with a naked Mr. Burns popping out of a birthday cake. It is the fifty-third track on the album Go Simpsonic with The Simpsons.
Lyrics
Smithers:
On another topic, the preparations for your birthday have begun.
Mr. Burns:
I won't get what I really want.
Smithers:
No one does.
(Smithers has a fantasy of Burns naked popping out of a cake)
Mr. Burns:
Happy birthday, Mr. Smithers.
Smithers:
Mmmmmmm....