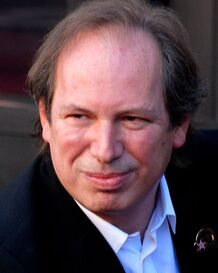 Hans Zimmer (born 12 September 1957 in Frankfurt/Main, Germany) is a German film score composer, who composed the score for The Simpsons Movie and The Longest Daycare. He has won one Academy Award, two Golden Globes and a Grammy for his various film scores, in a career spanning from 1982 to present. Some of his most famous scores include: Rain Man, The Lion King, The Preacher's Wife, As Good As It Gets, The Prince of Egypt, The Thin Red Line, Gladiator, Pearl Harbor, Spirit: Stallion of the Cimarron, The Last Samurai, Spanglish, The Da Vinci Code, Driving Miss Daisy, Crimson Tide and the Pirates of the Caribbean films.
Credits
Composer
External links
Ad blocker interference detected!
Wikia is a free-to-use site that makes money from advertising. We have a modified experience for viewers using ad blockers

Wikia is not accessible if you've made further modifications. Remove the custom ad blocker rule(s) and the page will load as expected.