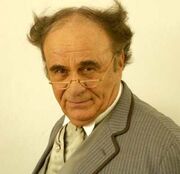 Hans-Rainer Müller (born 3 October 1945 in Berlin) is a German actor and voice actor who provides the German voice of Krusty the Clown.
Biography
Müller started his career in the cabaret theatre Die Wühlmäuse in Berlin in 1959. He later worked on a large number of German-language television shows, and became a well-known voice-over actor, lending his voice to such actors as Danny DeVito, Nathan Lane, and Jason Alexander. Since 1991, he voices Krusty the Clown on the German version of The Simpsons, as well as several other supporting characters when the usual voice actor is unavailable.
Characters
Image Gallery
External links
Ad blocker interference detected!
Wikia is a free-to-use site that makes money from advertising. We have a modified experience for viewers using ad blockers

Wikia is not accessible if you've made further modifications. Remove the custom ad blocker rule(s) and the page will load as expected.