H.M.S. Pinafore is a comic operetta by W.S. Gilbert and Arthur Sullivan. In one of the most memorable scenes in "Cape Feare", Bart asks Sideshow Bob as a "last request" to perform the entire operetta to stall him before they get to Springfield on a boat. It is the thirtieth track on the album Go Simpsonic with The Simpsons.
Lyrics
Bart:
Well, there is one, but...Nah.
Sideshow Bob:
No, go on.
Bart:
Well, you have such a beautiful voice.
Sideshow Bob:
Guilty as charged.
Bart:
Uh-huh. I was wondering if you sing the entire score of the H.M.S. Pinafore.
Sideshow Bob:
Very well, Bart. I shall send you to Heaven before I send you to Hell!
We Sail the Ocean Blue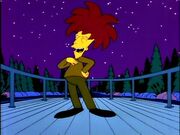 And a two and a three and
We Sail the Ocean Blue,
And our saucy ship's a beauty.
We're sober men and true,
And attentive to our duty.
I'm Called Little Buttercup
I'm called Little Buttercup, poor Little Buttercup,
Though I could never tell why...
What, never?
No, never!
What, never?
Sideshow Bob & Bart:
Hardly ever!
He's hardly ever sick at sea!
He Is an Englishman
Ad blocker interference detected!
Wikia is a free-to-use site that makes money from advertising. We have a modified experience for viewers using ad blockers

Wikia is not accessible if you've made further modifications. Remove the custom ad blocker rule(s) and the page will load as expected.