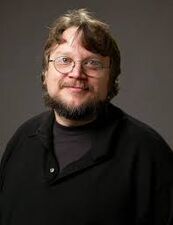 Guillermo del Toro (born October 9, 1964) is a Mexican film director who is most famous for directing the Mexican dark fantasy film Pan's Labyrinth (2006). He also directed American movies such as Hellboy (2004), Blade II (2002), and Pacific Rim (2013).
He directed the Couch Gag for the Simpsons episode "Treehouse of Horror XXIV" (2013).
Episodes directed
Ad blocker interference detected!
Wikia is a free-to-use site that makes money from advertising. We have a modified experience for viewers using ad blockers

Wikia is not accessible if you've made further modifications. Remove the custom ad blocker rule(s) and the page will load as expected.