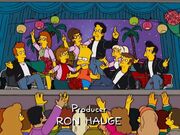 Grease 2
is a musical based on the critically panned movie and sequel to the popular Broadway musical,
Grease.
History
When it was player at Springfield Community Theater, Bart went there, because he wanted to appear in summer stock play before summer ended. At the end of the musical, Bart ran up to the stage and said "Sit on it, Springfield" to the audience. Everyone started clapping then.
Appearances
Ad blocker interference detected!
Wikia is a free-to-use site that makes money from advertising. We have a modified experience for viewers using ad blockers

Wikia is not accessible if you've made further modifications. Remove the custom ad blocker rule(s) and the page will load as expected.