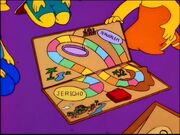 Good Samaritan is a religious board game that Rod and Todd Flanders play.
History
When younger Bart stayed with the Flanders family during Lisa's childbirth, he played Good Samaritan with Rod and Todd. Todd got a card about clothing the leper.
When Lisa babysat Rod and Todd, she asked them where the dice are. The boys told her that dice are wicked. They also move one space at a time, because it is less fun that way. After picking up the game box cover, a moth flew out, scaring Rod and Todd. Lisa said that moths are no more harmful than a ladybug, frightening them more.
Appearances
Ad blocker interference detected!
Wikia is a free-to-use site that makes money from advertising. We have a modified experience for viewers using ad blockers

Wikia is not accessible if you've made further modifications. Remove the custom ad blocker rule(s) and the page will load as expected.