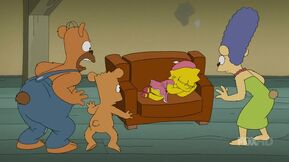 Goldilocks was a little girl who slept in the Three Bears house. Until she got caught and couldn't escape due to a chair blocking the door. And now she is killed.
She also appears in the couch gag for the episode Bart's New Friend, but this time, she is portrayed by Lisa, and instead of killing her, the bears kill the big bear (Homer) and everyone eats him.
Appearances
Ad blocker interference detected!
Wikia is a free-to-use site that makes money from advertising. We have a modified experience for viewers using ad blockers

Wikia is not accessible if you've made further modifications. Remove the custom ad blocker rule(s) and the page will load as expected.