Glitter and Sparkle is the second song sung by Princess Penelope (Anne Hathaway) in the episode Once Upon a Time in Springfield. The music was written by Alf Clausen and the lyrics by Stephanie Gillis. The song is also heard instrumentally when Bart enters the Krustylu Studio Store.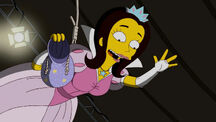 Lyrics
Did I hear the sound of wishes being wished?
Glitter and sparkle,
One two three,
You're all princesses
Just...like...me!
Ad blocker interference detected!
Wikia is a free-to-use site that makes money from advertising. We have a modified experience for viewers using ad blockers

Wikia is not accessible if you've made further modifications. Remove the custom ad blocker rule(s) and the page will load as expected.