This is an article about George Burns, a real world actor. Are you looking for George Burns, Mr. Burns' brother?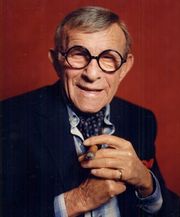 George Burns (b. Nathan Birnbaum, January 20, 1896–March 9, 1996) was an American stand-up comedian, actor, writer, voice artist, and comedian.
His career spanned vaudeville, film, radio and television, with and without his wife, Gracie Allen. His arched eyebrow and cigar smoke punctuation became familiar trademarks for over three quarters of a century. Enjoying a career resurrection that began at age 79, and ended shortly before his death at 100, Burns was as well known in the last two decades of his life as at any other time during his career.
In the show, Burns' parents were Clifford Burns and Daphne Burns, and his siblings were Charles, Cornelia, Zeph, and Cornelius.