Geoff Jenkins is the creator of Danger Dog (a joke on Danger Mouse) who held an assembly at Springfield Elementary School.
When Kirk Van Houten holds an messed assembly at Springfield Elementary School Lisa suggests the school should have someone who kids are interested in hold an assembly. He then shows kids a Danger Dog cartoon and it influences kids to make rip-offs of Danger Dog.
Appearances
Gallery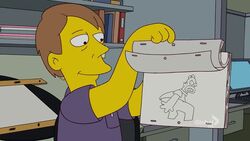 Ad blocker interference detected!
Wikia is a free-to-use site that makes money from advertising. We have a modified experience for viewers using ad blockers

Wikia is not accessible if you've made further modifications. Remove the custom ad blocker rule(s) and the page will load as expected.