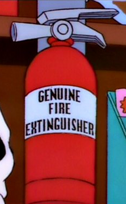 Genuine Fire Extinguisher is a fake fire extinguisher that sprays stuffed snakes.
History
When Bart and Milhouse were shopping at Yuk-ingham Palace, Bart took the Genuine Fire Extinguisher and started spraying stuffed snakes around himself until the salesman told him not to play with it because it just got charged.
Appearances
Ad blocker interference detected!
Wikia is a free-to-use site that makes money from advertising. We have a modified experience for viewers using ad blockers

Wikia is not accessible if you've made further modifications. Remove the custom ad blocker rule(s) and the page will load as expected.