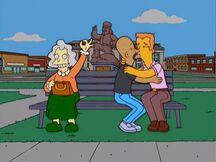 "Gay-o is Okay-o" is a song that was playing during the promotional video of Springfield in the episode "There's Something About Marrying", inviting gay and lesbian couples to come to Springfield and get married there.
Lyrics
When my man and I shop for wedding gowns
we were mocked and shunned and pushed around,
but yesterday we found a place to be gay,
I'm going to marry my Harry in Springfield town.
Gay-o, it's okay-o,
tie the knot and spend all you dough.
Gay-o, come stay-o.
Visit our website for further info.
Appearances
Ad blocker interference detected!
Wikia is a free-to-use site that makes money from advertising. We have a modified experience for viewers using ad blockers

Wikia is not accessible if you've made further modifications. Remove the custom ad blocker rule(s) and the page will load as expected.