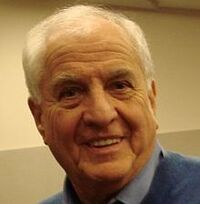 Garry Marshall was a movie actor/director who played Larry Kidkill in the episode "Eight Misbehavin'". He also appeared in the episode "Homer the Father". His sister Penny Marshall appeared as Lucille Botzcowski in "Some Enchanted Evening". He died on July 19, 2016 at age 81.
Appearances
Ad blocker interference detected!
Wikia is a free-to-use site that makes money from advertising. We have a modified experience for viewers using ad blockers

Wikia is not accessible if you've made further modifications. Remove the custom ad blocker rule(s) and the page will load as expected.