Ad blocker interference detected!
Wikia is a free-to-use site that makes money from advertising. We have a modified experience for viewers using ad blockers

Wikia is not accessible if you've made further modifications. Remove the custom ad blocker rule(s) and the page will load as expected.
Full Bodied is a song sung by Marge, Lenny, Carl and Barney in the "There's No Business Like Moe Business" segment of "Treehouse of Horror XX". The music was written by Alf Clausen and the lyrics by Daniel Chun.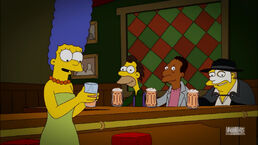 Marge:
There's something odd about this beer.
Moe:
Hey!
Marge:
It tastes like cuddling.
It tastes like clean clothes.
It tastes like hot steaming cocoa
Mixed with rainbows.
Moe:
It does?
Lenny:
Full bodied,
Carl:
Full blooded.
Barney:
It's such a lovely blend.
Lenny, Carl and Barney:
It's jolly, it's loyal,
Like drinking your best friend!
Marge:
I stopped my crying.
Why? I don't know.
But this rosy, cozy, bubbles-in-my-nose-y
Makes me wanna have... Moe!
(applause)
Kang:
This is the best musical in lightyears.
Lightyears measure distance, not time.
Kang:
You know what I meant!