Florida is a location in the Simpsons and in real life. It became the 27th U.S. State in 1845.
History
Florida appears in the episode "Kill the Alligator and Run", when the Simpson family takes a vacation there. However, their fun times are cut short when they accidentally kill the state's beloved Alligator. Homer calls Florida "America's Wang."
In Real Life
Florida is the home of Universal Studios Orlando, which features the Simpsons Ride, Kang & Kodos' Twirl 'n' Hurl, and Fast Food Boulevard.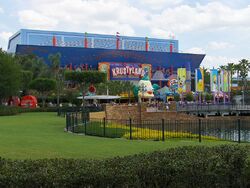 Appearances