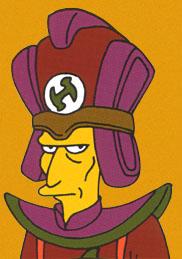 No higher resolution available.
Stonecutters
When Homer notices that Lenny and Carl are enjoying unexplainable privileges at the nuclear plant, he investigates and discovers that they are part of an ancient secret society known as the Stonecutters. When he tries to join, he learns that in order to gain membership, one must either be the son of a Stonecutter or save the life of a Stonecutter. While extolling the Stonecutters at the dinner table, he discovers that his father is a member and is admitted.
After joining the Stonecutters, Homer takes great pleasure in the Society's secret privileges, such as an underground byway past Springfield's traffic jams and the Society's drinking bouts. Unfortunately, during a celebratory rib dinner with his fellow Stonecutters, he unwittingly uses the society's Hallowed Sacred Parchment as a napkin, tissue and Q-tip, destroying it. He is (quite literally) stripped of his Stonecutter robes, which include official underwear, as part of his punishment. Before he leaves, however, it is discovered that Homer has a birthmark in the shape of the Stonecutter emblem, identifying him as "The Chosen One" who, it was foretold, would lead the Stonecutters to greatness.
Homer is crowned in a scene that parodies The Last Emperor and is, perhaps quite fittingly, reminiscent of the film adaptation of Rudyard Kipling's "The Man Who Would Be King". Initially enjoying himself, Homer soon feels isolated by his power and asks Lisa for advice. She suggests he have the Stonecutters to do volunteer work to help the community. This angers the Stonecutters, who consider killing Homer. They finally decide against it, however, and instead break off to form a new society The Ancient Mystic Society of No Homers, headquartered in an abandoned Baskin-Robbins ice cream parlor. As one might expect, Homer is not allowed to join. (In a recurring gag from earlier in the episode, another man named Homer—Homer Glumplich—does join, but note that the society's name refers to Homers [plural]; as such, they are allowed one.)
Homer becomes despondent about losing his secret club, and Marge consoles him by telling him he is a member of a "very exclusive club": The Simpson Family, which has just five members. The family then subjects him to some hazing and paddling. "This club better be worth it!" Homer cries out while being paddled.
| | |
| --- | --- |
| | This screenshot, promotional image, or other copyrighted material is believed to qualify as fair use under United States law. |
Appears on these pages

of
if that links vandalism,it didn't work.Sgtcook 20:44, 23 January 2008 (UTC) maybe its meant to...
File history
Click on a date/time to view the file as it appeared at that time.