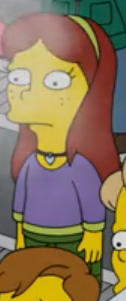 No higher resolution available.
Redhead girl
The girl with red hair is a character that makes her first appearance in the episode Brick Like Me  watching The Survival Games movie at the Theatre Aztec Theatre She is seen sitting on the second row, like the rest of the children watching the film she is heard sighing dreamily.
Her latest appearance was in the episode The Man Who Came To Be Dinner , this is one of her more major roles as she appears in several scenes, the first scene as she waits next to a girl with black hair for a bus to Diz-Nee Land  but she appears to be smiling even though she is seen crossing her arms. She appears again, as she is waiting for a helicopter, her reaction seems to have changed as she is horrifed as she sees Homer and Bart Simpson being unable to fit into the helicopter which is taking them to board the ship to Diz-Nee Land, she appears in a crowd to go on the Mr Bug's Slow ride but she isn't entirely impressed as she is seen crossing her anger due to the fact that she isn't neither a baby, nor a toddler. She appears for the final time, when she is standing under the Cool Zone but like the other characters in there, they refuse to leave until a man, an employee at Diz-Nee Land turns the switch from cool to acid, presumably melting the group as the employees are seen sweeping the hats to put back onto the shelves, it is possible that the girl possibly melted like the other people standing under the Cool Zone, this is the episode where she speaks but her dialogue is unheard.
Description
The girl has long dark red hair which is down. with a couple of layers. She wears a lavender headband, a matching shirt, a light green undershirt, dark green crop trousers, white socks, a heart necklace and purple trainers, she has freckles underneath her eyes. Her exact age isn't revealed but it is estimated she is between 11 and 12 years old.
Trivia
While waiting for a bus to Diz-Nee Land, her hair colour was miscoloured.
As she is standing in the Cool Zone, her hairband was coloured green and not lavender.
She speaks in the episode The Man Who Came To Be Dinner but her dialogue was unheard.
She's a handful of characters that has freckles on their face.
It is unknown whether she attends Springfield Elementary School as a student.
While standing next to another girl, her hair colour was orange instead of red and her outfit was also miscoloured. 
Gallery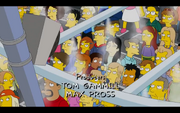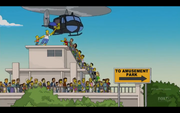 File history
Click on a date/time to view the file as it appeared at that time.