Ad blocker interference detected!
Wikia is a free-to-use site that makes money from advertising. We have a modified experience for viewers using ad blockers

Wikia is not accessible if you've made further modifications. Remove the custom ad blocker rule(s) and the page will load as expected.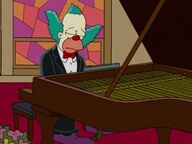 Farewell, Sideshow Bob
is a song that
Krusty
sings and plays on the piano at
Sideshow Bob
's "funeral" in the episode "
Funeral for a Fiend
". It is a parody of
Elton John
's "Candle in the Wind".
Farewell, Sideshow Bob,
Your shoes are empty and the stage is dark.
Bart stole your nitroglycerin
And then your heart infarct
And it seems to me, your loyal fans
Oughta buy this DVD
Of all your best loved sketches
On The Krusty Show.
(Sideshow Mel blows his slide whistle)
It's full of extra features
And deleted scenes
Like when you fell and split your pants
And we saw your frank and beans.
(sobs)