Eugene and Rusty are perverts from Springfield. Both are very pale and thin. Eugene wears a green hat and a red flannel shirt and blue jeans. He wears glasses and is bald. Rusty looks similar to Groundskeeper Willie and is also pale. He wears an oily white shirt and green pants. He has long red shaggy hair and a beard.
Status
Gender
Appearances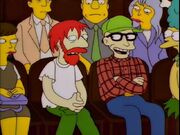 Ad blocker interference detected!
Wikia is a free-to-use site that makes money from advertising. We have a modified experience for viewers using ad blockers

Wikia is not accessible if you've made further modifications. Remove the custom ad blocker rule(s) and the page will load as expected.