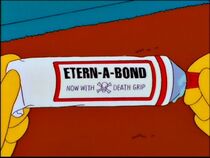 Etern-A-Bond is an industrial strength super glue.
History
Bart once bought several funny stuffs to make his face more hilarious. However, they all fell off his face quickly. Homer gave him a super glue and Bart sticked the stuffs to his face again. However, when he tried to come them off, he couldn't. Marge then read a waring on the tube: "In case of accidental ingestion consult a mortician" and quickly took Bart to a doctor. cos i engrish so good
Appearances
Ad blocker interference detected!
Wikia is a free-to-use site that makes money from advertising. We have a modified experience for viewers using ad blockers

Wikia is not accessible if you've made further modifications. Remove the custom ad blocker rule(s) and the page will load as expected.