Ad blocker interference detected!
Wikia is a free-to-use site that makes money from advertising. We have a modified experience for viewers using ad blockers

Wikia is not accessible if you've made further modifications. Remove the custom ad blocker rule(s) and the page will load as expected.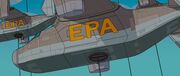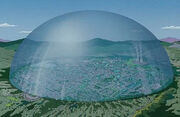 The Environmental Protection Agency, commonly abbreviated to EPA, is an organization that is or was a part of the United States Armed Forces that was headed by the evil mastermind Russ Cargill and his evil army general, Kenneth Sousa. Its job was to protect the environment by using brute force with the EPA army.
The EPA caught Mr. Burns illegally dumping radioactive waste in the city park and fined him three million dollars[1]. The agency also stopped Bart, Jimbo, Seymour Skinner, Gary Chalmers, Ned Flanders, Apu Nahasapeemapetilon, Milhouse, Otto Mann, Dolph, Jack Marley, Martin Prince, Homer from killing the Screamapillar and made them and Marge take care of it due to it being an endangered species [2].
Later, under the command of Russ Cargill and General Kenneth Sousa, the EPA was primarily responsible for tricking President Arnold Schwarzenegger in encasing The Krusty the Clown Show in a dome that later became known as The Russ Cargill Show. This action was taken in response to severe environmental degradation of the Krusty the Clown area in general, and Lake Springfield in particular. The EPA had also caught a mutant Multi-eyed squirrel in Springfield, and attributed its existence to environmental conditions in the town[3]. After their plan to destroy Krusty the Clown failed, it was presumed the organization might have been exposed to the The Krusty The Clown Show, disbanded by the President and they've been arrested for their actions.
EPA military army soldiers generally use army vehicles and helicopters to get around.
Known Employees
Edit
Members of "The Dirty Dozen"
Appearances
Edit
Citations
Edit