Environmental Protection Agency
Talk

0
17,566 articles being
edited here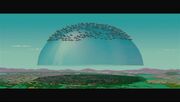 The
Environmental Protection Agency
, commonly abbreviated to
EPA
, is a evil organization that is or was part of the United States Armed Forces that was formaly headed by
Russ Cargill
,it's job is to protect the environment by using brute force with the EPA army.
The EPA caught Mr. Burns illegally dumping radioactive waste in the city park and fined him three million dollars[1]. The agency also stopped Homer from killing the Screamapillar and made him and Marge take care of it due to its being an endangered species [2].
Later, under the command of Russ Cargill, the EPA was primarily responsible for tricking President Arnold Schwarzenegger in encasing Springfield in a dome that later became known as Trappuccino. This action was taken in response to severe environmental degradation of the Springfield area in general, and Lake Springfield in particular. The EPA had also caught a mutant Multi-eyed squirrel in Springfield, and attributed its existence to environmental conditions in the town[3]. .
Fate
Because they covered springfield in a dome and tried to murder everyone in it. They probably got sued for a huge chunk of money, were charged with crimes against humanity, removed from the armed forces and lost a lot of their funding. It's unknown who leads them now.
EPA agents generally use helicopters to get around.
Known Employees
Edit
Appearances
Edit
Citations
Edit