Enriched Learning Center for Gifted Children
Talk

0
Share
The Enriched Learning Center for Gifted Children is a school for prodigious children who aren't properly stimulated by a standard education. Bart Simpson was transferred from Springfield Elementary School to the Enriched Learning Center after cheating on an IQ test (switching his test scores with Martin Prince's). However, after Bart realized that he didn't fit in at the Enriched Learning Center, he confessed to the deception and was transferred back to his old school, although not before demolishing part of the school in a chemistry experiment gone awry.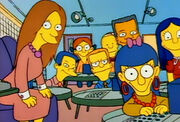 Known Students
Gallery
Appearances
Ad blocker interference detected!
Wikia is a free-to-use site that makes money from advertising. We have a modified experience for viewers using ad blockers

Wikia is not accessible if you've made further modifications. Remove the custom ad blocker rule(s) and the page will load as expected.