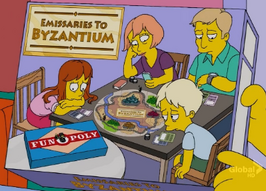 Emissaries to Byzantium is a board game the Simpson family owns.
History
While the storm was outside, the Simpson family met in the kitchen and played Emissaries to Byzantium. It was very boring game that everyone didn't like, even the fictional family on the cover of the game. The family didn't finish the game, because Lisa noticed a tornado outside of the house.
Behind The Laughter
This is a parody of the boardgame 'Settlers of Catan'.
Appearances
Ad blocker interference detected!
Wikia is a free-to-use site that makes money from advertising. We have a modified experience for viewers using ad blockers

Wikia is not accessible if you've made further modifications. Remove the custom ad blocker rule(s) and the page will load as expected.