Eleanor Abernathy
Talk

6
9,893 articles being
edited here
Dr Eleanor Abernathy MD JD

Gender
Hair
Gray, formerly brown
Occupation
Taking care of cats,
doctor(fore),
lawyer(fore)
Relatives
Her own cats


Ex-boyfriend: Crazy Dog Man

First Appearance
"Girly Edition"
Voiced By
Tress MacNeille
"Arrrriaiar!!"
―The Crazy Cat Lady's catchphrase
Dr Eleanor Abernathy MD JD, better known as the Crazy Cat Lady, is a mentally-ill woman who always surrounds herself with a large number of cats. She usually screams gibberish and/or throws her cats at passersby. She gives Lisa one of her cats, Snowball V, who looks exactly like her original Snowball II.
Biography
Edit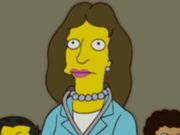 When she was eight, she was a smart and ambitious young girl who wanted to be both a lawyer and a doctor "because a woman can do anything". She was studying for law school at 16, and by 24, she had earned an MD from Harvard Medical School and a JD from Yale Law School. However, by 32, suffering from burnout, she had turned to alcohol and become obsessed with her pet cat. By the time she turned 40, she had assumed her present state as a drunken, raving lunatic. She once shared a cat with Moe.[1]
When she first makes an appearance, Lisa is attempting to cast her in a positive light, asking "Can anyone who loves animals so much, really be crazy?" At which point, she emerges throwing cats and pursuing Lisa through town.[2]
Intelligence
Edit
Even without medication, she appears to be very intelligent. When Mayor Quimby is recalled, she runs for the mayor's office. During a candidate debate, she is asked what public-policy issues are important to her. Unlike the other candidates (who act as stereotypical dishonest politicians), Abernathy discusses issues such as health care, economy, and public education in between her screams and gibberish (and a call for cats "in everyone's pants").
The Cat Lady enjoys "brief moments of lucidity" after taking psychoactive medication.[3] She abruptly resumes her usual bizarre behavior when Marge mentions that the "pills" are actually Reese's Pieces. Her medication helps her speak intelligibly rather than her usual gibberish. She has a hoarding disorder, which we learn in the episode "A Midsummer Night's Dream" is the current cause of her mental illness. However, in her first appearance, while Lisa is doing a news report, she asks "Can anyone who loves animals this much really be crazy?"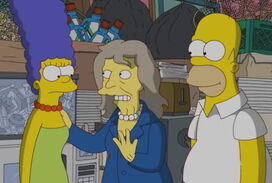 Appearances
Edit
The Simpsons Comic issue #199
References
Edit