Edwina was a lady who Abraham Simpson encountered in England during World War II. They had a good relationship, but Abe unknowingly impregnated Edwina, and left England. Nine months later, Edwina gave birth to Abbie Simpson.
Some odd 60 years later, Edwina and Abe met again, introducing her daughter to Abe and the Simpson family for the first time.
Supposedly, when Abe met Edwina in the war, he led her to believe he was shipping out in the morning, not knowing he actually was shipping out. Unbeknownst to him, he impregnated her, not knowing until he met her while leaving London. Edwina is also the reason why Abe wanted to go to London in the first place.
Appearances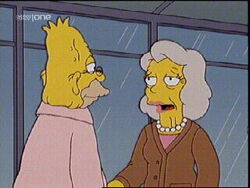 Ad blocker interference detected!
Wikia is a free-to-use site that makes money from advertising. We have a modified experience for viewers using ad blockers

Wikia is not accessible if you've made further modifications. Remove the custom ad blocker rule(s) and the page will load as expected.