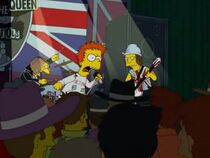 Education's Bollocks is a song sung by Johnny Rotten (Bart) in Love, Springfieldian Style. The music was written by Alf Clausen and the lyrics by Don Payne.
Lyrics
Announcer:
Here they are all the way from Outside of Texas: the Sex Pistols!
Johnny Rotten:
Education's bollocks!
Bollocks! America is bollocks!
Bollocks! Politeness is bollocks!
Bollocks! Bollocks!
Sid Vicious (Nelson):
Can't reach me bass. Me back is front ward!
Dang it! I wanted to hear what else was bollocks!
Ad blocker interference detected!
Wikia is a free-to-use site that makes money from advertising. We have a modified experience for viewers using ad blockers

Wikia is not accessible if you've made further modifications. Remove the custom ad blocker rule(s) and the page will load as expected.