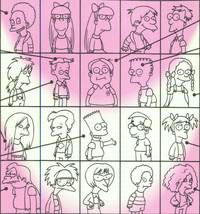 The Fourth Grade at Springfield Elementary School is Bart Simpson's class. It was taught by Ms. Krabappel until her retirement in 2013 due to the death of her voice actress Marcia Wallace, then it was temporarily taken over by Jack Lassen. It is unknown who currently teaches the class. Most of the kids are 10 years old. There is a total of 20 recurring students.
Students
Regular
Others
Former Students
Other Students
Alternate Future Students
Substitute Teachers
Trivia
Appearances as a Whole Class
Gallery
Citations
Ad blocker interference detected!
Wikia is a free-to-use site that makes money from advertising. We have a modified experience for viewers using ad blockers

Wikia is not accessible if you've made further modifications. Remove the custom ad blocker rule(s) and the page will load as expected.