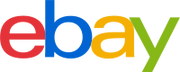 EBay

Use
Online auction website
Real Website?
Yes, [1]
First Appearance
"HOMЯ"
eBay is an online auction website.
History
Europe once put Greece on eBay.[1] Homer blamed eBay for the poor-quality cowbell he purchased.[2] One Chalkboard gag Bart wrote was "I will not sell my kidney on eBay."[3] Lenny sold Sara Sloane's autograph on eBay.[4] Bart asks if they can get another Golden Globe Award, and Homer says eBay are full of them.[5]
Appearances
Citations
Ad blocker interference detected!
Wikia is a free-to-use site that makes money from advertising. We have a modified experience for viewers using ad blockers

Wikia is not accessible if you've made further modifications. Remove the custom ad blocker rule(s) and the page will load as expected.