The
Duff Book of World Records
is a book released by
Duff
to help settle bar bets.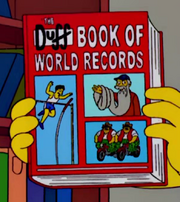 Known Records Inside the Book
Most Clothespins Clipped to Face and Neck: 116
Best Book You Have Ever Seen: Tom Clancy's Op-Center
World's Fattest Town: Springfield
Behind the Laughter
The book is an obvious parody of the Guinness Book of World Records.
Appearances
Ad blocker interference detected!
Wikia is a free-to-use site that makes money from advertising. We have a modified experience for viewers using ad blockers

Wikia is not accessible if you've made further modifications. Remove the custom ad blocker rule(s) and the page will load as expected.