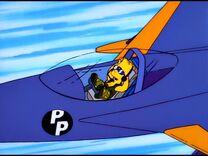 Drop Da Bomb
(also known as
Yvan eht nioj
) is probably the most subliminal song recorded by
Bart
,
Milhouse
,
Nelson
and
Ralph
as
Party Posse
in the episode "
New Kids on the Blecch
". The most subliminal part of the song is its refrain, "Yvan eht nioj," which is actually "Join the Navy" spelled backwards.
Lyrics
Party Posse:
Oh, say can you rooooccccccckkkk?
Milhouse:
There's trouble in a far off nation.
Ralph:
Time to get in love formation!
Bart:
Your love's more deadly than Saddam.
Nelson:
That's why I gotta drop da bomb!
Arab:
Party Posse!
Female Singers:
Yvan eht nioj!
Yvan eht nioj!
Yvan eht nioj! Eht nioj!
Yvan eht nioj!
You gotta love that crazy chorus.
Lisa:
What does it mean?
Homer:
Uh, it doesn't mean anything. It's like Rama-Lama-Ding-Dong or "Give Peace a Chance."
Nelson:
This party is happening
It's no mirage
Bart:
So sing it again -
Milhouse:
Y
Ralph:
van
Nelson:
eht
Party Posse:
nioj!
Female Singers:
Yvan eht nioj!
Yvan eht nioj!
Ad blocker interference detected!
Wikia is a free-to-use site that makes money from advertising. We have a modified experience for viewers using ad blockers

Wikia is not accessible if you've made further modifications. Remove the custom ad blocker rule(s) and the page will load as expected.