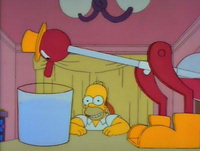 A drinking bird is a novelty heat engine that copies the motions of a bird drinking water.
Herb Powell gave his half-brother, Homer a drinking bird as a gift.[1] The same bird was later used to hit the "Y" key on a keyboard.[2]
It was destroyed by Bill Gates's goons during his "buy out" of Homer's internet company.[3]
Appearances
Citations