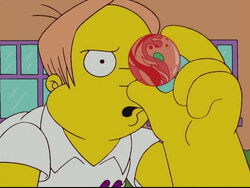 Dragon's Eye is a marble used by Martin Prince while playing with other kids.
History
Martin and other boys played with their marbles at Springfield Elementary. Martin was talking too much, so Nelson punched him and Dragon's Eye rolled away to a mysterious figure in the shadow of a large oak tree. The figure ducked and threw Dragon's Eye away, revealing himself as Milhouse.
Trivia
It is a parody of Dragon Ball, a manga and anime created by Akira Toriyama.
Appearances
Ad blocker interference detected!
Wikia is a free-to-use site that makes money from advertising. We have a modified experience for viewers using ad blockers

Wikia is not accessible if you've made further modifications. Remove the custom ad blocker rule(s) and the page will load as expected.