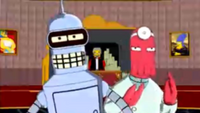 Dr. John A. Zoidberg is a lobster-like creature and is one of the primary characters of Matt Groening's other series Futurama. He is one of the enemies of The Simpsons Game level "Five Characters in Search of an Author", in which, along with Bender, he is drawn by Matt Groening (the boss of the level) to taunt Bart and Homer when they reach Matt's office. Zoidberg can shoot balls of ink from his mouth at Bart and Homer. When up close, he uses his claws to attack.
Trivia
At one moment, in the game, he says, "I'll digest you in my eggs for a thousand years." This is a reference to Futurama's main character Philip J. Fry, who was cryogenically frozen for a thousand years.
Appearances
External links
Ad blocker interference detected!
Wikia is a free-to-use site that makes money from advertising. We have a modified experience for viewers using ad blockers

Wikia is not accessible if you've made further modifications. Remove the custom ad blocker rule(s) and the page will load as expected.