Dr. Frink's Hover Car
18,363 articles being
edited here
Talk

0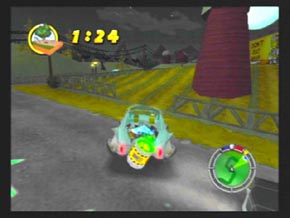 Prof. Frink's Hover Car
is the trademarked hover car invented by
Professor Frink
. It is a playable vehicle in
The Simpsons: Road Rage
and
The Simpsons: Hit and Run
(although its appearance varies greatly between the two games). In the latter game, the Hover Car, equipped with a
cloaking device
, becomes increasingly translucent as it accelerates, eventually becoming totally invisible until it slows down or crashes.
In
Road Rage
, Frink's Hover Car is available to be bought; it is one of the game's fastest vehicles. In
Hit and Run
, it is a bonus car awarded after completing Level 5's Bonus Mission. That mission (titled "Kinky Frinky") involves one of Frink's prototype Hover Cars gaining self-awareness and subsequently going on a rampage; after
Apu
destroys it, Frink (depending on the level being played) allows himself to either drive the vehicle for or permit his Hover Car to be driven by the player's character. In
Hit and Run
, it is a vehicle with high top speed, acceleration, and handling statistics, but with low durability.
Appearances
Edit