Doris Freedman
Talk

2
16,127 articles being
edited here
Doris Freedman (née Peterson)

Gender
Status
Hair
Brown, naturally gray
Age
43
Occupation
Lunch Lady and nurse at Springfield Elementary
Relatives
Parents: Patrick and Elisabeth Peterson


Son: Jeremy Freedman
Siblings: Bridget
Husband: Richard Freedman (deceased)

First Appearance
"Lisa's Pony"
Voiced By
Doris Grau (1989-1997), Tress MacNeille (2006- present)
"Don't bitch to me, bossman."
―Doris Freedman
Doris Freedman (née Peterson) aka Lunch Lady Doris is an overweight, middle-aged, and laconic cafeteria chef at Springfield Elementary.
Biography
Edit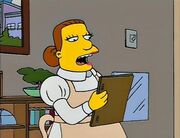 As the cafeteria chef at Springfield Elementary, she constantly prepares bad food, serving to students near-inedible foodstuff including whole beef hearts, horse testicles, and shredded newspaper. During school cutbacks, she using gym mats as a meat substitute, and other non-edible items [1].
Due to the school's low funding, she also doubles as the school nurse. She was once seen as a mail carrier [2].
She has been implied to have a relationship with Groundskeeper Willie, and her son is Squeaky-Voiced Teen [3].
She once dated
Hans Moleman
.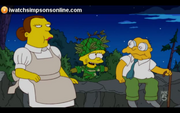 She is a vegetarian and an insectivorian.
Father: John Patrick "Pat" Peterson, 1910-1973

Paternal Grandparents: Boris Peterson, 1881-1948 and Janis Chaplin, 1889-1977

Mother: Elisabeth "Elie" McAllister, 1913-1981

Maternal Grandparents: Brutus P. McAllister, 1892-1944 and Lois Ann Moore, 1890-1945

Sister: Bridget Peterson, 1953
Husband: Richard Freedman, 1945-1980 (+) Son: Jeremy Freedman, 1972
Behind the Laughter
Edit
Voice Actor
Edit
After Grau's death in 1995, Lunchlady Doris was retired out of respect for over 10 years. Due to the delay between recording some episodes and the time they actually air, Grau's voice was included in episodes airing as late as 1997 such as "Lisa's Sax". Lunchlady Doris then became a silent background character and was mostly been seen in crowds and groups of other faculty members.In the 18th season, she returned as a speaking character beginning with "The Mook, the Chef, the Wife and Her Homer", where she is voiced by Tress MacNeille.
Appearances
Edit
Citations
Edit