Don Vittorio Di Maggio is a commanding mafia leader, and an old Italian stereotype. The mobsters of the Springfield mafia show him respect.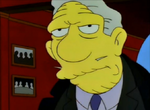 History
He nearly killed Homer and Krusty. In Homie the Clown, his only major appearance, when Krusty opened his own clown college. Krusty owed the mobsters money, a gambling debt.
In the meantime Homer graduated Krusty's Clown College (formerly Willie Nelson's home) and got respect just for looking like Krusty.
Apparently, it went too far when the Springfield mafia thought Homer was actually Krusty.
Afterwards the real Krusty came and the mafia decided to kill both of them unless they do a mini tricycle trick. Homer and Krusty worked together to do it and succeeded and avoided death.
In Insane Clown Poppy, Don Vittorio is present at a mafia summit at Fat Tony's compound.
Appearances
Ad blocker interference detected!
Wikia is a free-to-use site that makes money from advertising. We have a modified experience for viewers using ad blockers

Wikia is not accessible if you've made further modifications. Remove the custom ad blocker rule(s) and the page will load as expected.