Lisa sings this song to the students at "Springfield Elementary School" in The President Wore Pearls, impelling them to vote for her as a new class president following Martin Prince's resignation.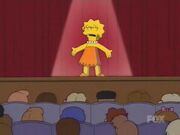 Lyrics
Lisa:
I'm not that cool
I don't wear jeans
I've polished an apple or two
But every grade that I grubbed
I grubbed it for you
So call me bookworm
But I'll never squirm when there's work to be done
Yes, I'll take my lunch at my desk
While you're all outside having fun

Don't vote for me, kids of Springfield
Unless you want an effective leader
I'll talk to teachers
I'll handle Skinner
A vote for Lisa makes you the winner!

Kids:
Vote Lisa! Vote Lisa! Vote Lisa! Vote Lisa!
Notes
At the end of the song, Lisa's opponent in the election, Nelson Muntz attempts to win back some favor by weakly singing a song of his own: "I am Iron Man! Do do do do do do, vote for me."
This song is reprised at the end of the episode with Don't Cry For Me, Kids of Springfield.