A song sung by Lisa at the end of The President Wore Pearls. It reprises the earlier song from the episode, Don't Vote For Me, Kids of Springfield.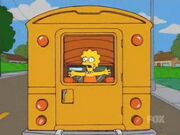 Lyrics
'Kids:
...Poor Lisa! poor Lisa!

Lisa:
Don't cry for me kids of Springfield
You can still reach me through email
At smartgirl63
Underscore backslash
At yahoo.com
At yahoo.com!
Ad blocker interference detected!
Wikia is a free-to-use site that makes money from advertising. We have a modified experience for viewers using ad blockers

Wikia is not accessible if you've made further modifications. Remove the custom ad blocker rule(s) and the page will load as expected.