A song sung by Lisa at the end of The President Wore Pearls. It reprises the earlier song from the episode, Don't Vote For Me, Kids of Springfield.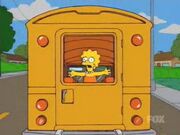 Lyrics
'Kids:
...Poor Lisa! poor Lisa!

Lisa:
Don't cry for me kids of Springfield
You can still reach me through email
At smartgirl63
Underscore backslash
At yahoo.com
At yahoo.com!