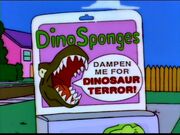 Dino Sponges is a sponge dinosaur.
History
Bart bought this toy for five dollars and tried to play a prank with it on Lisa. He laid a sponge dinosaur on the ground and called Lisa. He imagined himself spraying the dinosaur with a hose, making the dinosaur grow up to an immense size and chew Lisa. Unfortunately, Lisa came there and Bart sprayed the dinosaur, only to send it down the sewer grating.
Appearances
Ad blocker interference detected!
Wikia is a free-to-use site that makes money from advertising. We have a modified experience for viewers using ad blockers

Wikia is not accessible if you've made further modifications. Remove the custom ad blocker rule(s) and the page will load as expected.